On November 9th we hosted the latest webinar in our Insights series: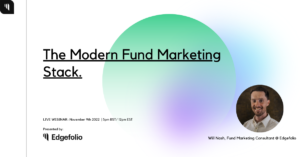 Digital marketing has never been so complex. Fund managers need to find the right balance of tools and technology to optimise their online presence and spend more time generating Alpha. They need, a fund marketing tech stack.
The objective was to share valuable insights with emerging fund managers who:
May not have a clear vision for their marketing technology stack

Need to understand and connect increasingly complex technology workflows

Want to build relationships with prospects faster and more easily
Here's what was covered.
Differentiation has never been more important for emerging fund managers
Marketing your hedge fund is no easy task. While competition has never been tougher, with the right marketing tools you can differentiate your fund and win your allocators' most precious commodity: their time and attention.
So, what is a marketing tech stack?
Also referred to as a 'MarTech stack', it's an integrated marketing strategy which combines all your marketing tools – from CRM to email campaigns – into one 'stack'. This consolidation helps you run your business more efficiently and build relationships with your prospects faster.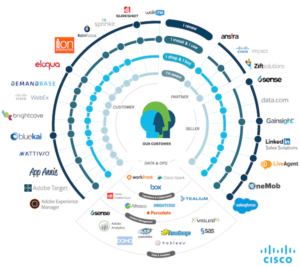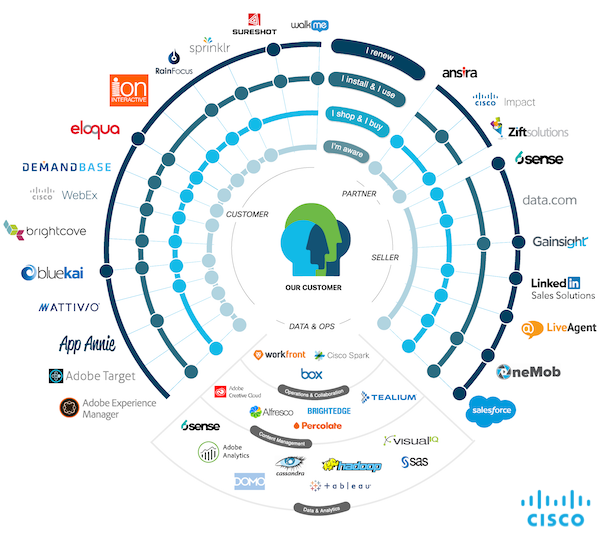 Three quick reasons why you need a fund marketing tech stack in 2023
1 – Investors expect hedge fund managers to be more transparent now
Institutional investors look for fund managers who know their portfolio inside out and are ready to answer those tough questions – on everything from diversity & inclusion, to tax and ESG.
2 – They have little time to scrutinise your business
Prospects want to understand your fee model. Your strategy. Past performance. Projections. Purchase terms. Compliance information. Thought leadership content – and more. They can only do this effectively and efficiently by accessing all this information on one integrated, compliant investor portal.
Your prospects don't have time to deal with multiple passwords, logins, and RSA tokens. They are time-poor but hungry for investment opportunities, so you need to be accessible. Strike when the iron is hot.
3 – You need behavioural insights to make smarter decisions
Many fund managers still manage prospect information using a spreadsheet instead of a CRM. It's simple, familiar, and what many of their colleagues and clients do too. But to harness the power of engagement tracking and analytics for better reporting and data analysis, top funds have embraced digitisation. Integrating your fund marketing into one platform can help you achieve that.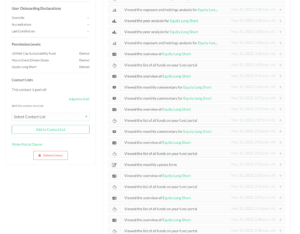 The essential tools for your fund marketing tech stack
1 – Investor portals
You never get a second chance to make a first impression. When an investor considers your fund, referring them to an on-brand portal gives them a professional, seamless experience. Portals make it easy for investors to analyse your fund history, conduct peer review, and consume your marketing content. Leave them with a long-lasting and positive impression of your organisation.
Using a high quality investor portal may save you money. Our research has shown that on average, our clients were already paying for 3 or more tools before replacing them with FundPortal. This is a simpler, faster, and potentially more cost-effective platform for securely integrating all your fund marketing materials.
2 – Hedge fund CRM software
CRM (Customer Relationship Management) software, as the name implies, helps you manage your client relationships. It's essential for any modern fund marketing strategy, as it unlocks access to other tools which allow you to track and improve your industry connections.
Hubspot and Salesforce are widely used to integrate website content, emails, lead generation and engagement tracking, to help monitor, evaluate and improve your marketing efforts. However, they often include overly complex reporting functions which most emerging fund managers find superfluous.
Say goodbye to the traditional investor journey in which customer relationship management had to be juggled by multiple people, making it harder to be operationally efficient or customer-centric. With CRM software, clients benefit from a more linear journey, in which resources and support are built on one, centralised and secure platform.
3- Email marketing
Research has shown that for every $1 spent on email marketing, the ROI is $36. While most B2B emails are boring, businesses that can engage their customers and maintain a high open rate can make a significant ROI via client acquisition and retention. Fund marketers should expect an average open rate of about 23% for marketing emails, and slightly higher when these emails are sent with engaging and relevant subject lines.
4 – Automation
Save hundreds of hours a year for your team by automating repetitive tasks. We know not everything can be automated, but there's no need to waste time performing manual data entry which most emerging fund managers can afford to automate.
5 – Engagement reporting
You need to make informed decisions using accurate data. Integrated analytics and insights tools are extremely valuable for hedge funds because they enable you to monitor and evaluate the efficacy of your marketing. Which contacts are most engaged? Who is taking the time to read your commentary, or always opens your emails? Who should you call today and invite to tomorrow's event?
6 – Segmentation
Next, you need to focus your marketing efforts on your ideal clients. With data segmentation, you can get a deeper understanding of your clients and prospects by organising your clients and prospects into different categories, ranked by location, investment strategy or engagement metrics, as a few examples (CRM software will allow you to do this).
7 – Newsletters
Growing funds can benefit from sharing insights and propositions with a larger, more diverse audience of investors. Grow your subscriber list to increase your brand visibility in your sector. Position your emerging fund as a viable investment opportunity across multiple jurisdictions.
8 – Good content
Bill Gates wasn't lying when he said 'content is king'. When you start sharing your thought leadership content, you can build your authority and reputation in your sector. With segmentation, you can dive into more niche topics to reach directly to a specific audience. For example, if your fund specialises in impact investing, you could discuss your thoughts about the COP27 summit, Net Zero, and climate change, to build a rapport with investors seeking in these types of funds.
Summary:
Essential tools for best practice fund marketing in 2023:
A secure portal – to make the best impression

Advanced analytics – to dive deeper into your clients' behaviour

Peer analysis – to help your clients scrutinise your fund in context

Great content – to establish your manager as a thought leader

Other nice-to-haves for your fund marketing tech stack
Video content
Help your ideal clients get familiar with you, your team, and your messaging (boost your brand visibility)
Podcasts
Cement your authority in your niche (boost your brand visibility). Get started by participating in an external podcast, before jumping in two-footed and starting your own.
Project management software
Consider tools such as Trello or Notion can help you collaborate with internal stakeholders more effectively, manage multiple tasks and deadlines, assign project owners, and more.
Google Analytics
Get insights into your website's Search Engine Optimisation, (monitor your page rankings and performance metrics) with Google Analytics and Google Search Console.
Social Media Scheduling
Schedule social media posts to be posted at the right times to optimise your social media engagement Free tools such as HootSuite, Buffer or HypeFury can help.
Ready for institutional investment?
Read our recent blog about how to prepare your pitch and how a fund marketing platform can help you win institutional capital, or start by booking a demo of our platform.