Technology
Launch your own marketing and investor relations platform
---
A flexible solution tailored to fund managers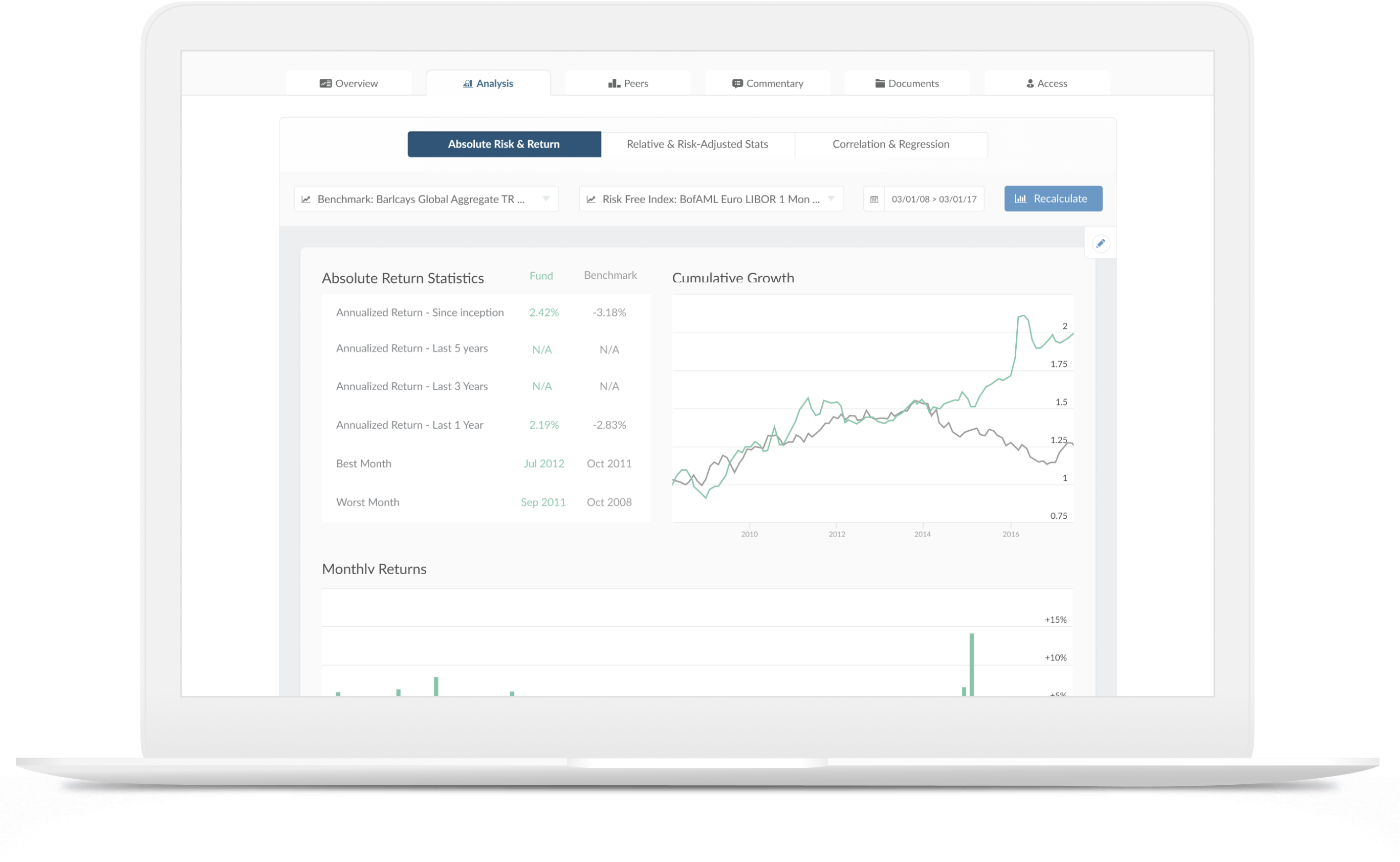 Digital fund information
Fund Profile, Analysis Suite, Peer Review, Newsfeed, Data Room.
CRM
Contact management, relationship tracking, notes, engagement scoring, tasks, introductions.
Usage analytics
Tracking usage and behavioural data across all implementations.
Data management
Aggregating and structuring multi-sourced data. Privacy and permission-based access.
Reporting
Fund factsheets, Peer Analysis, Industry Reports.
Compliance and regulation
Jurisdiction matrix, relevant disclaimers, audit trails, representations and KYC.
Fund Managers
All your information in one place, accurate and up to date. FundPortal is a scalable investor relations portal designed to digitise, and track the success of your fund marketing and investor engagement.
Institutional Investors
A centralised source of fund intelligence for your organisation. Fund screening, research and analysis platform. All your data sources fully integrated. Private, customisable, and secure.
Prime Brokers
White label platforms for onboarding investors and managers. Allow Cap Intro and consulting teams to offer engaging client experiences. Digital Cap Intro at scale.
Newsletter
The Fund Marketing Quarterly
---
Subscribe to receive fund marketing insights and thoughtleadership directly to your inbox
As featured in
---
Industry-leading media write about us all the time




Testimonials
What Our Customers Have to Say
---
Edgefolio is one of those tools where you go: Why hasn't anyone thought of doing this before? It is an elegant and light application that has helped us move away from a clunky desktop based workflow.

Thomas Castri
Thalìa
We have worked closely with Edgefolio as they developed their solution, on which we are able to leverage Edgefolio's front-end and combine it with our data to make the most advanced fund data management tool.

Eric Bissonnier
LumX Group
I could not be more satisfied with FundPortal and am convinced it will ultimately drive much better conversion of investor prospects into fund investors

Theron De Ris
Eschler Asset Management
One of the reasons that we chose Edgefolio is to accelerate the marketing aspect of attracting new investors. We want to have the best digital tools in all aspects of our operation.

Cyril Bériot
Trajectoire Capital
Our niche focus, uncovering asymmetric opportunities in less-crowded strategies, represents an excellent opportunity for investors, and we want our investor journey to reflect that excellence. With FundPortal, we have expanded our marketing breadth while delivering a better experience for our clients and prospects

Stephen Martus
Altana Wealth
With investors located in many jurisdictions, FundPortal handles the necessary compliance and we have total control over the information each visitor sees. With FundPortal, we can run email campaigns, host content, and securely share performance data and documentation. The engagement analytics ensure we follow up with the right people, using the right message at the right time

Aviv Merci
Stouff Capital