Build your own digital fund distribution platform
Leverage our technology to add scale and empower your team.
Showcase your Funds Directly on your Website
Give investors access to an intuitive and transparent environment to search through your fund products. Allow them to flag products that are interesting, and leave behind a digital footprint to give your sales team the intelligence required to market your products in today's competitive landscape.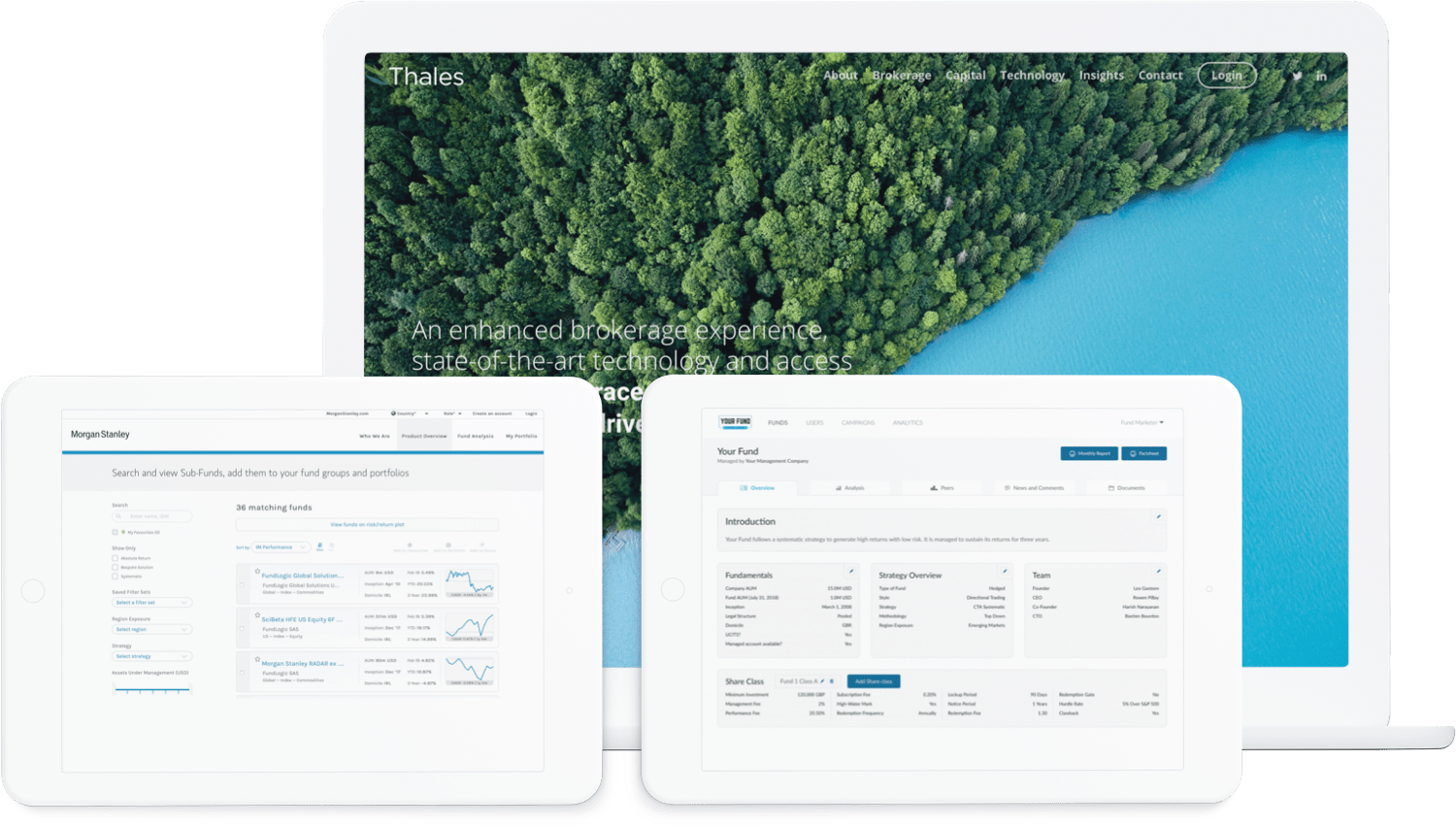 All your funds in one place
Alternatives, UCITS, Managed Accounts or Open Ended. Our best-in-class solutions can be completely customised to meet your business requirements and strategic objectives. This can be driven through compliance and regulation, or more directly through more aggressive sales and fundraising targets.
Control access and transparency
Our robust interface gives you full control over your marketplace. You can choose to invite investors or funds, respond to inbound interest, as well as have full synchronisation with your CRM system to make sure all clients and prospects are being serviced at scale.
Live Platform
FundLogic
---
The UCITS platform for the world's leading Prime Brokerage. Designed and implemented to satisfy the compliance and regulatory requirements for distributing UCITS funds. A powerful jurisdiction matrix to ensure that passporting and investor access are aligned, as well as enabling the dynamic changes of information to be relevant in terms of language and documentation.
Live Platform
Thales Agora
---
The private marketplace of Agora lists a select list of top tier Hedge Funds and includes some of the world´s leading investors on the allocator side. Thales is highly regarded as one of the hottest brokers in the US and Edgefolio has helped cement their position at the forefront of innovation.
An online investor community
Systematically build an online following for your fund products. Sales cycles in our industry take months to years so a consistent approach to build awareness around your offering has to be as automated and scalable as possible.
Service at scale
With increasing competition retaining and servicing clients requires more resources than ever before. Our technology allows you to give all of these clients exposure online, in a measured and systematic way.
A data driven approach
Unlock behavioural data so you can objectively understand the interest levels in your various products. Product reports and measured activity for all your products so you can compare and position accordingly.
Carpooling of IP
As our client base continues to grow we share the evolution of our products and offerings across the portfolio. We often build improvements and enhancements free of charge so that we can own the IP in an effort to always offer the industry leading technology to our clients.
Security & Compliance
---
Our solutions are hosted through the best in class cloud service provider Microsoft Azure, ensuring that you will have the same comprehensive security, privacy, compliance and intellectual property protections as our range of Tier One investment bank clients. Our team is well versed in the constantly evolving Sec Arc requirements of the financial sector meaning your solution is kept abreast of changes before they unfold.