Fund Marketing in a Digital World
Investor Portal, CRM & Improved Investor Relations for Asset Managers
FundPortal is the intelligent way to market your funds
Streamline your workflow, delight your clients.
Scale your investor relations
Identify and manage engaged clients with an intelligent CRM designed for hedge funds.
Build your brand
Maximise your marketing efforts with a customisable client portal that can be accessed through your website.
Enable intelligent fund analysis
Delight and retain investors with built-in analytics across a range of metrics to showcase how you beat the S&P 500.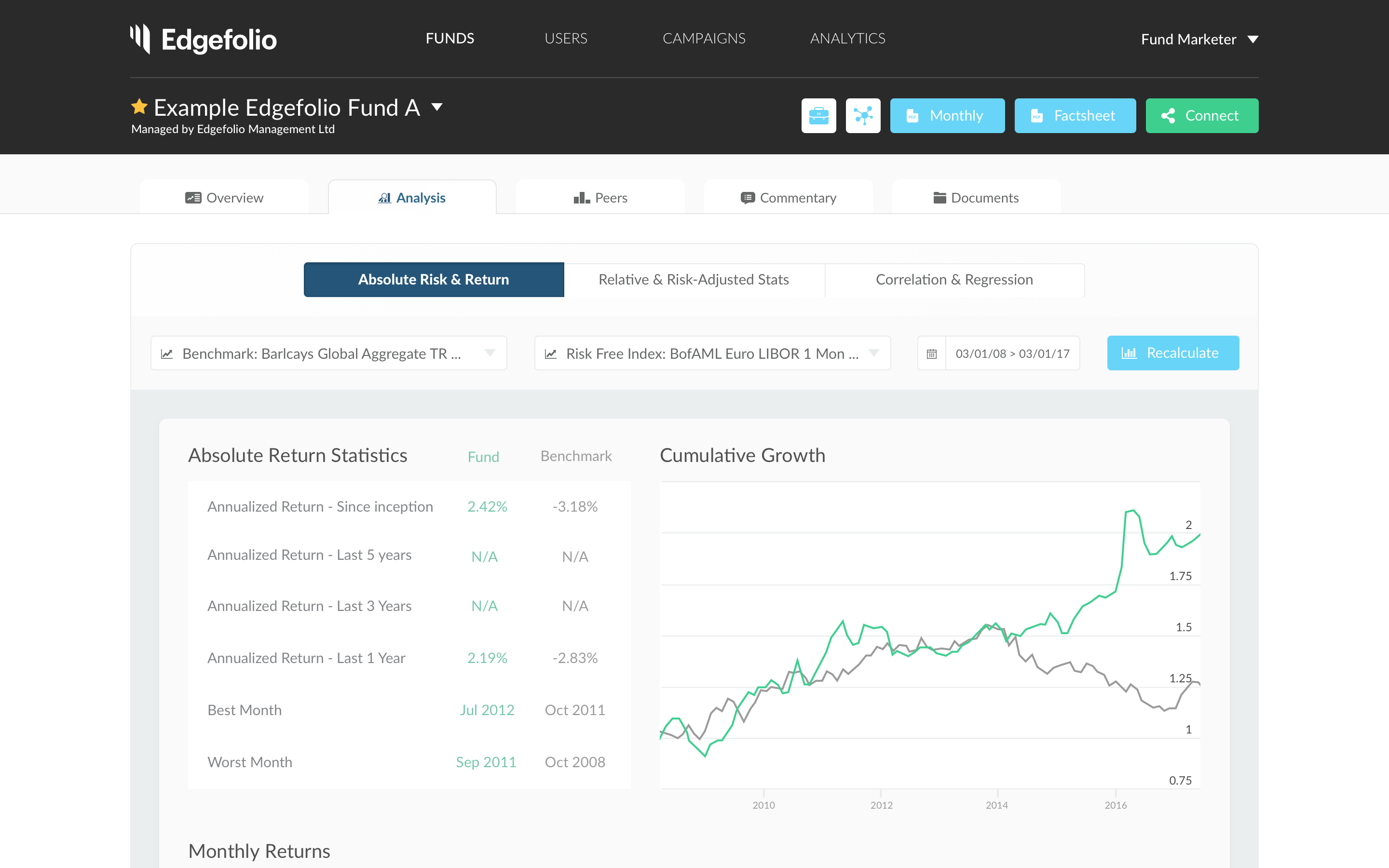 Simplify Compliance
Provide MiFID II and GDPR compliant access to your fund profile, documentation, and company updates.
Control your financial documents
Define user permissions and maintain an audit trail of user access to your fund documents.
Send timely information
Share your fund updates and commentary with investors and keep them up to speed with an easy-to-use email builder.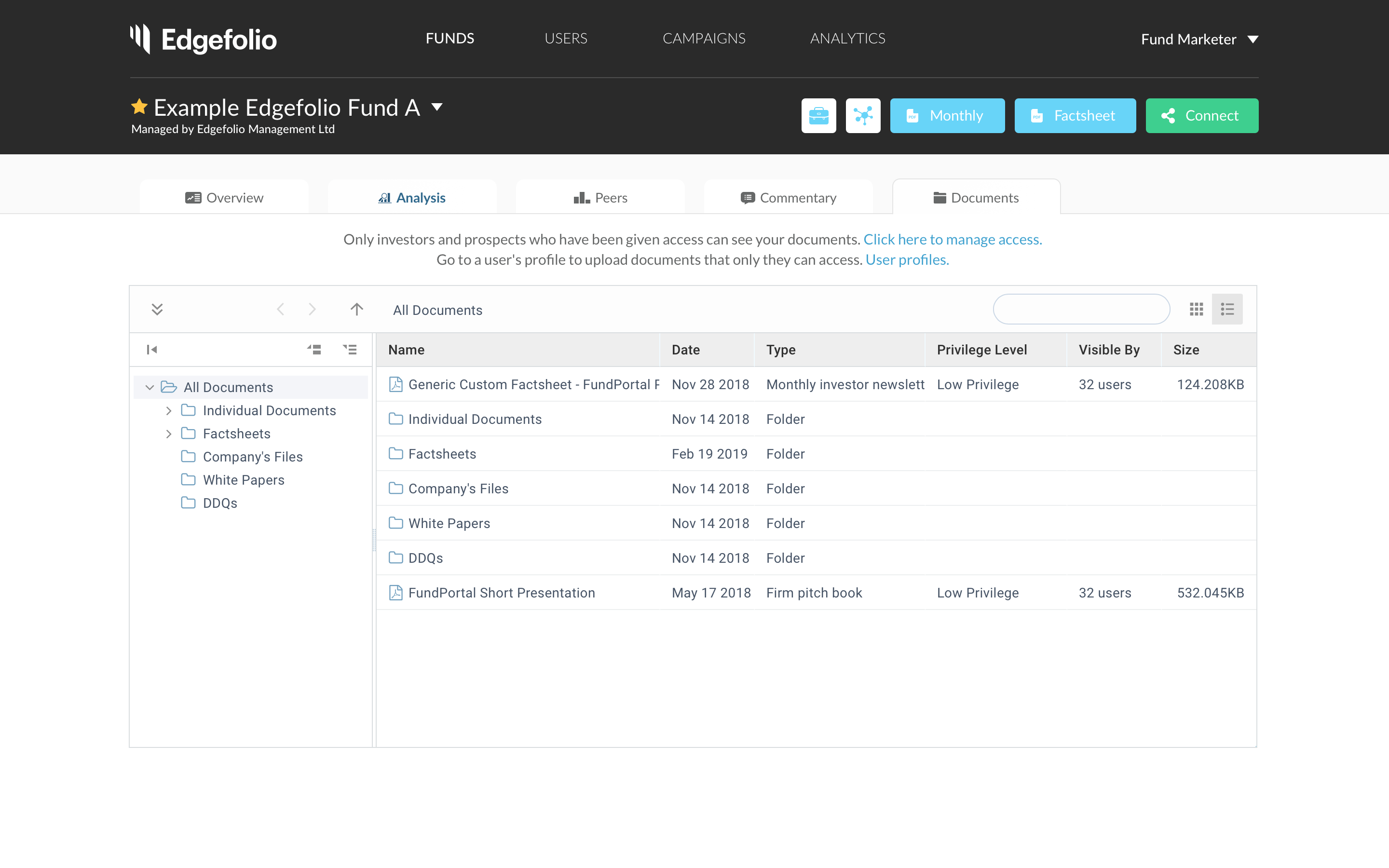 Resource
Fund marketing in a digital world
---
A guide to what drives growth in a competitive landscape.
Features
Hand-crafted Functionality
---
FundPortal is purpose-built around the needs of fund managers and marketers.
Award Winning
Hedge Fund Technology
Scalable investor relations
Bespoke CRM & email marketing
Dedicated server in the cloud and support
Integrated with website and existing tools
MiFID II & GDPR compliant file sharing
Two-factor security and data encryption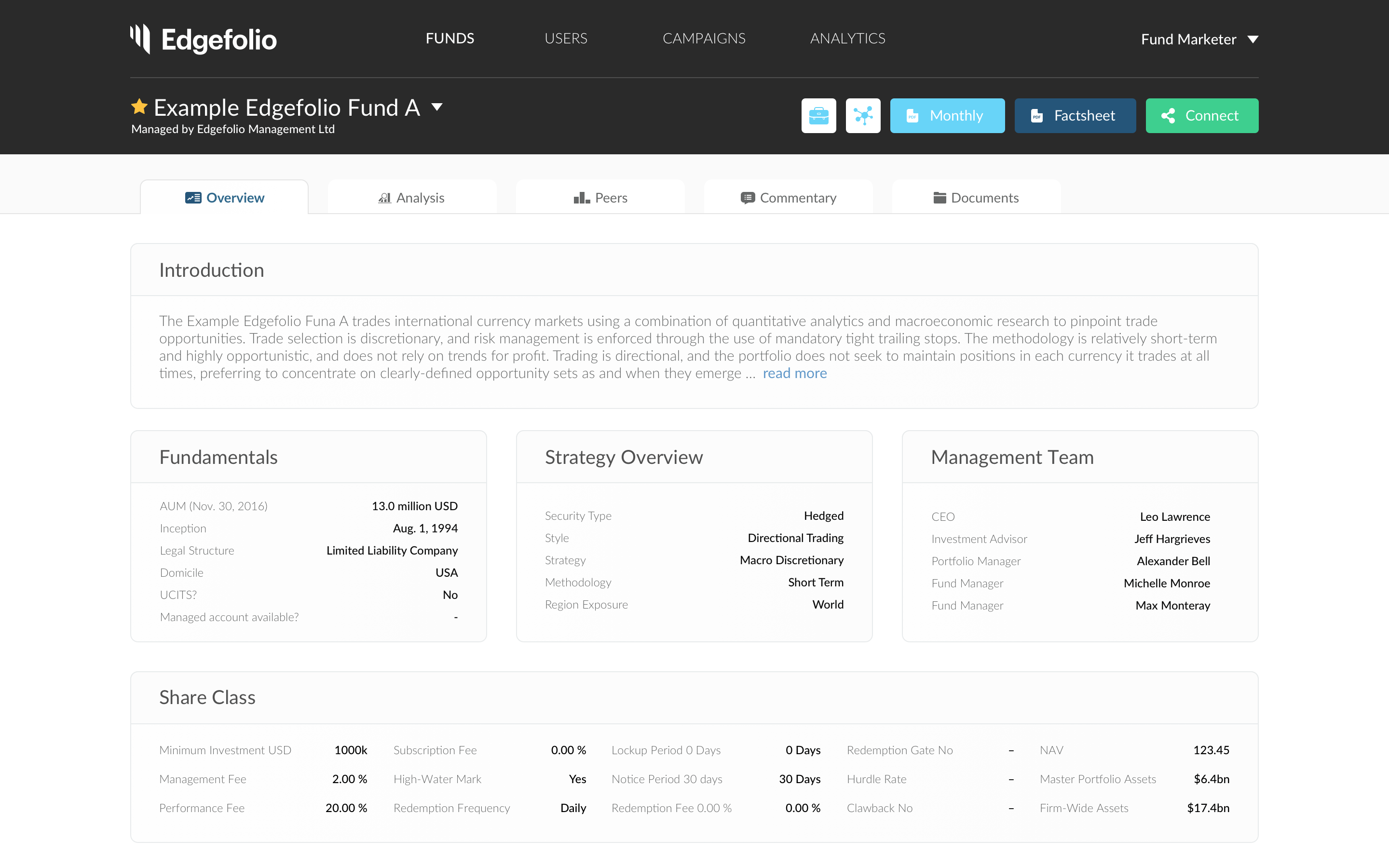 FundPortal has greatly expanded the online service we offer to investors, it has allowed us to supply them with information, customised to their stage within the sales process.
I could not be more satisfied with FundPortal and am convinced it will ultimately drive much better conversion of investor prospects into fund investors.
FundPortal is intuitive and simple to use with a level of fund and peer analytics unparalleled in the industry. The software has aided Coleman Group in both the presentation of our fund to clients as well as alerting potential investors to us as an investment.
I really like the new upgrade, and as you might see by my activity, it has transformed my engagement. Many thanks to the team at Edgefolio for incorporating our suggestions.
Before getting started
Frequently Asked Questions
---
Feel free to contact us if you have any questions before starting your trial. We'd be happy to help.
Do investors use FundPortal?
Over 6,000 institutional investors globally are monthly active users of FundPortal. Open rates on mail outs average at 20% (which is 4x higher than typical .pdf factsheet emails!).
How do you handle GDPR?
Under GDPR, we are the data processor and you are the data controller. Investors you invite to access your FundPortal are required to opt in to email communications upon sign up.
How does it plug into my website?
We can easily link your FundPortal subdomain with a login button. We can do this for you if you choose to opt for a free website with your subscription.
What data do you collect?
The data we collect and the reasons why are detailed in our plain English Privacy Policy.
Will anyone else get access to our invitation list?
No. Your contact information is encrypted on a dedicated server. Edgefolio only ever takes a view of aggregated & anonymised snapshots for platform performance reporting.
Does FundPortal work for closed-ended funds?
Not yet, but we're busy working on a release for PE/VC/RE funds in the months ahead. Sign up to our newsletter if you would like to be one of the first to know when they're available.