Powerful analysis and due diligence platform for traditional and alternative investments.
Intuitively search through, analyse, and track over 150,000 funds.
Find the Best Funds
ResearchEdge's advanced search allows you to quickly identify the funds that best match your mandate. The tool comes bundled with rich data (from Morningstar®) on a wide universe of over 150,000 active and passive funds, including ETFs. Now you can identify opportunities and track all of your investments in one place.
Fast-track your due diligence
View rich profiles of the funds you're interested in, and get instant access to key fund and firm documentation.
Efficiently book manager meetings
Taking a trip to identify investment opportunities? ResearchEdge's map search and manager connection tools help you make the most of your time.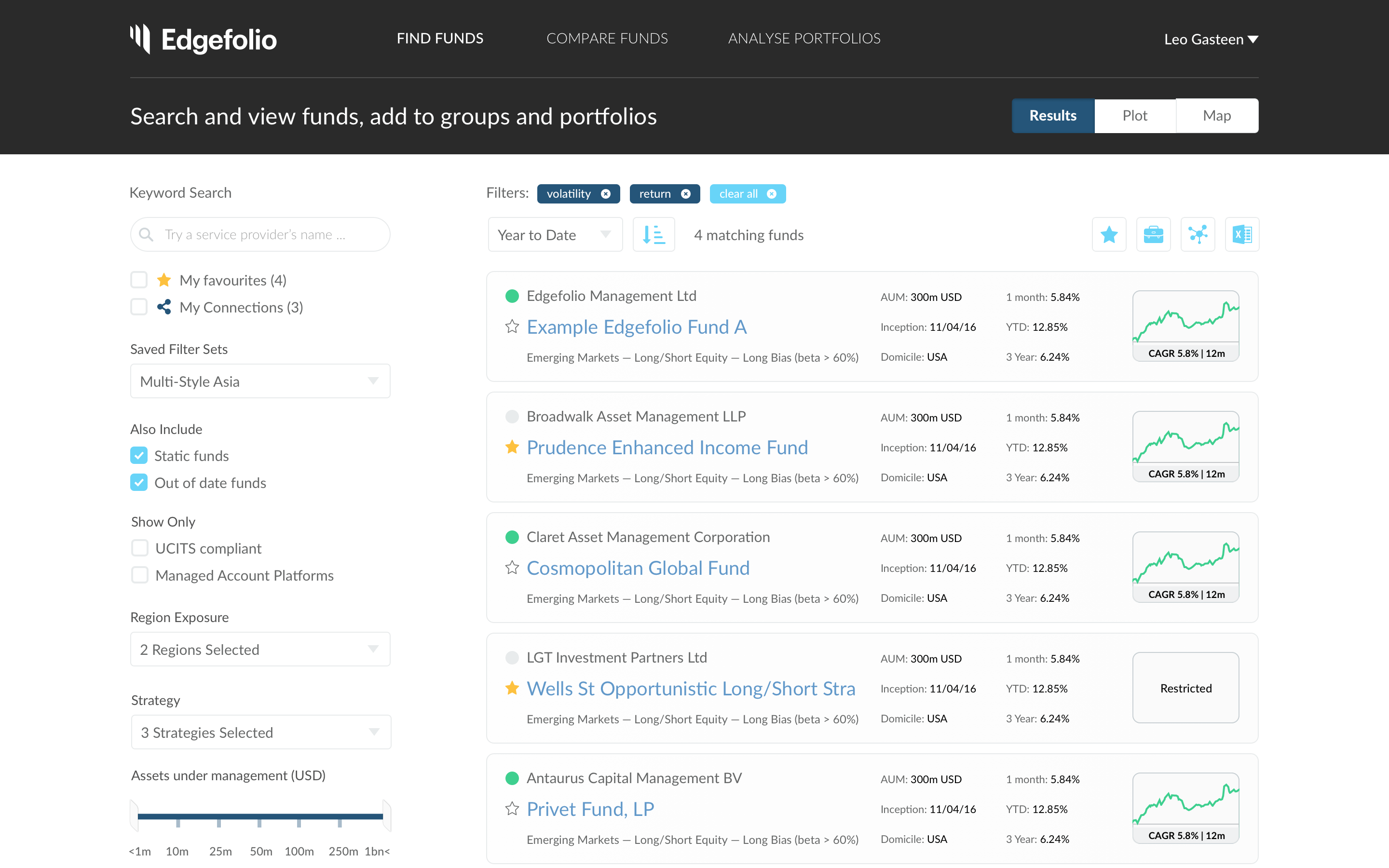 Perform In-depth Comparisons
ResearchEdge allows you to easily perform in-depth comparisons between groups of funds. The tool transforms rich data on a group of funds to highly visual comparisons on an absolute, relative and correlative basis — making it easy to spot high performers
Super-fast calculations
ResearchEdge lives on a powerful cluster in the cloud, meaning you don't ever have to wait for updates to your calculations.
Export raw data for further analysis
If your needs go beyond ResearchEdge's existing reports, our API makes it easy to integrate raw data with your in-house analysis systems.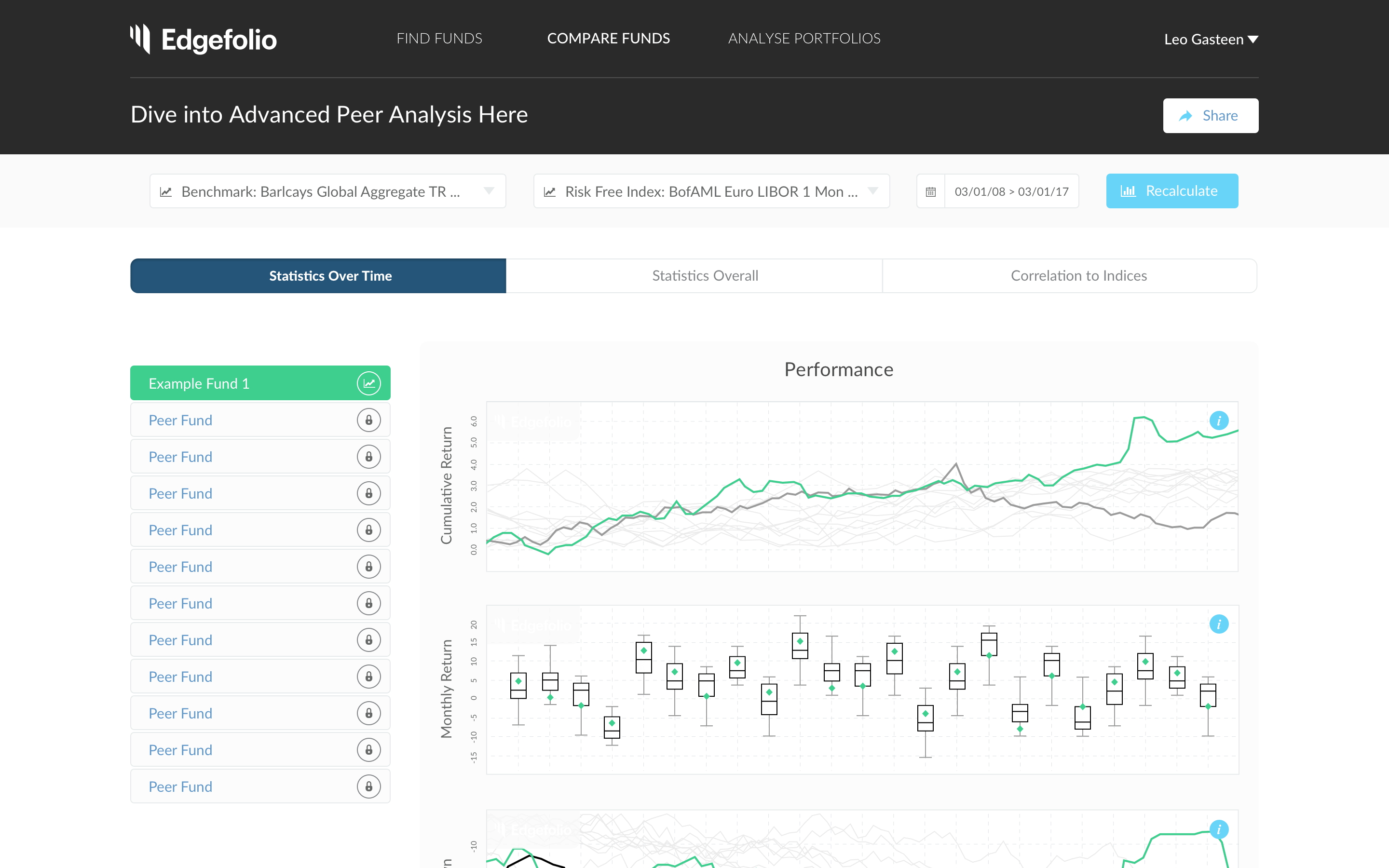 Analyse Portfolios
ResearchEdge makes it easy to construct and analyse portfolios. What's better, with Morningstar®'s expansive fund universe and your own proprietary fund data combined into one database, you can easily see the effect of potential new funds on your existing portfolios.
Collaborate with your colleagues
Colleagues can share access to each others portfolios, making it easy to collaborate.
Export beautiful reports
Easily communicate insights with stakeholders with rich, visual reports.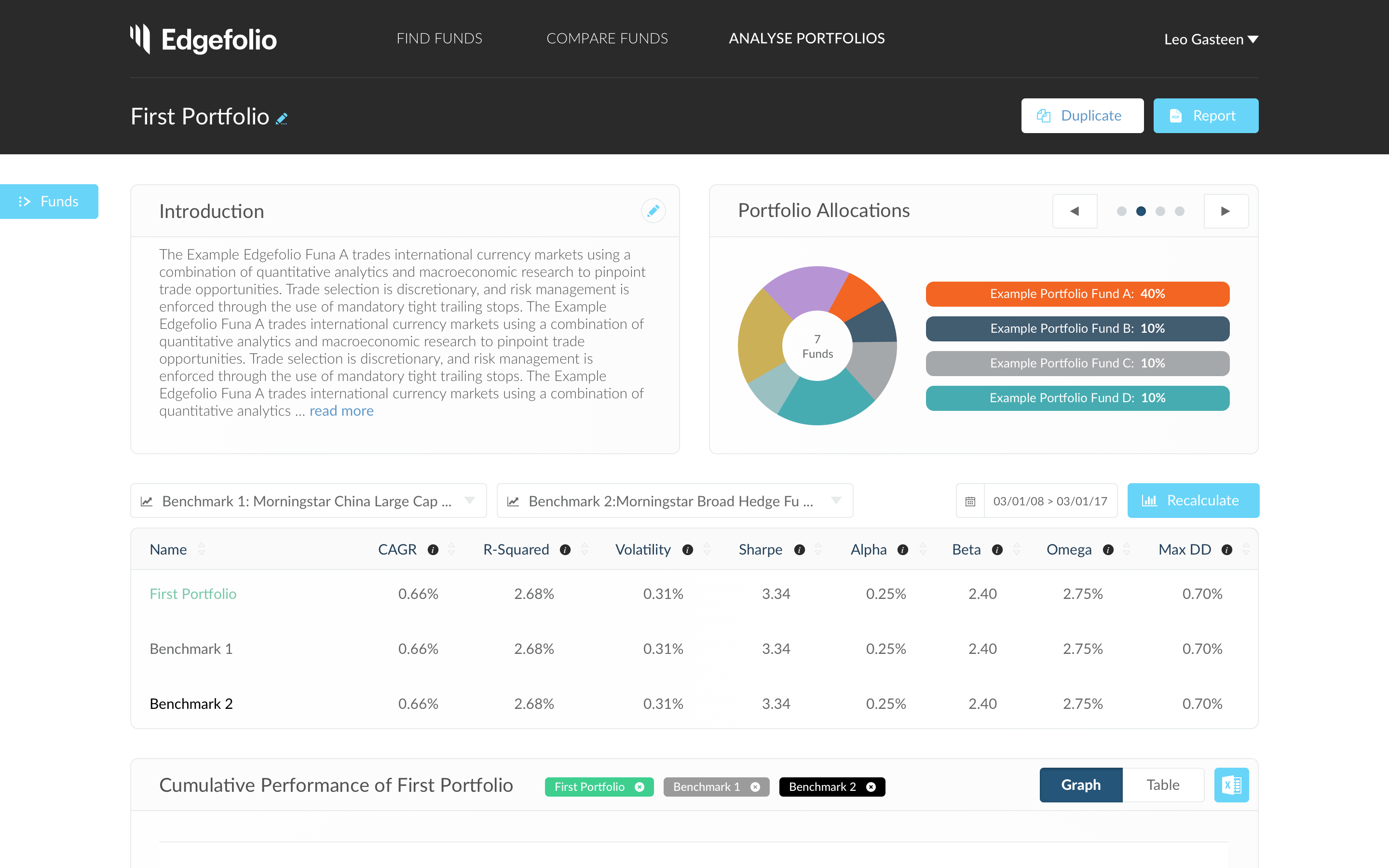 Join Hundreds of Institutional Investors Using ResearchEdge
---
Try it yourself for free for 30 days. No credit card required.
Testimonials
What Our Customers Have to Say
---
ResearchEdge is one of those tools where you go: Why hasn't anyone thought of doing this before? It is an elegant and light application that has helped us move away from a clunky desktop based workflow.

Thomas Castri
Thalìa
We have worked closely with Edgefolio as they developed ResearchEdge solution, on which we are able to leverage Edgefolio's front-end and combine it with our data to make the most advanced fund data management tool.

Eric Bissonnier
LumX Group
FAQ
Before Getting Started
---
Please write to us if you need more information before starting your trial. We'd be happy to help.
What data does your service provide?
ResearchEdge comes with access to rich data on over 150,000 funds. This data comes from Morningstar®, and covers a range of active and passive funds, including ETFs.
Can I upload my own fund data?
Certainly. You can upload your data, both from your in-house systems or using one of our pre-built importers for major data providers.
Is my data stored securely?
Yes, all your data is sent and received securely from our servers using TLS, and stored encrypted on our cloud servers.
Can I export the analysis I perform on your app?
Yes, all the analysis you perform in the app can be exported a print-friendly reports.
Can I integrate your app with our internal analysis tools?
Yes, ResearchEdge has a powerful data API that is easy to integrate with. Do write to us for assistance in integrating with your internal tools like Excel or MATLAB.
Can your tool be rebranded to match our corporate branding?
Yes! ResearchEdge can be fully rebranded to meet your internal brand guidelines.
Will your app work through our corporate firewall?
We do our best to make ResearchEdge work through most corporate firewalls. Please get in touch with us if you're having difficulty.
Can I invite managers to report to me through your app?
Yes, Edgefolio has a related data dissemination tool for managers called FundPortal. You can direct your managers to it to have them have them report directly to you.
Experience ResearchEdge
30 Day Free Trial
---
See how ResearchEdge can accelerate your screening, analysis and due diligence.
Get Started
No Credit Card Required