We are very excited to announce that The Guardian Multi-Family Office is Edgefolio's newest client, opening a new market in New Zealand.
The Auckland-based boutique, independently-owned wealth management and financial advisory firm, will be utilizing Edgefolio's flagship product, FundPortal to administer market its SICAV Sub-Funds.
Scott Masters, Director of The Guardian Multi-Family Office, said the bespoke technology supports their commitment to providing clients with complete transparency over their investment portfolio.
"We believe our clients and the advisory partners we work alongside should always have complete and easy access to investment information. That's seen us seek out innovative tools from around the globe – like FundPortal. We're impressed by the level of insights it provides, and we know our clients will agree."
With services including wealth planning expertise, risk management, and financial monitoring, The Guardian Multi-Family Office will be utilizing FundPortal to enhance its delivery of in-depth financial information, reporting, and analysis for the Guardian Market Neutral Fund – a Sub-Fund of The Guardian SICAV.
FundPortal helps Asset Managers to: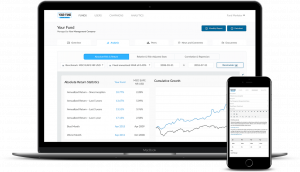 Engage with Investors — All the data-rich information they need in a timely fashion, easily accessible in one place.

Build your Brand — Strengthen your client communication through elegantly-branded messaging, and a beautiful, fully compliant portal accessed through your website.

Retain and Raise Assets — See exactly how clients and prospects engage with your information and focus your marketing efforts.
"I am very excited to welcome our first Kiwi clients to Edgefolio. Having grown up in New Zealand I am proud to see that our technology has made its way across the globe. Looking forward to working with Maurizio and Scott in helping them scale their business " – Rowen Pillay, CEO Edgefolio.
From all the team on Edgefolio, welcome on board!
# # #
About The Guardian Multi-Family Office
The Guardian Multi-Family Office is a boutique, independently-owned wealth management and financial advisory firm based in Auckland, New Zealand. Their approach is unique – by leveraging their significant expertise and their global network of financial contacts, they identify the best investments and domiciles to achieve their clients' financial objectives. The SICAV fund, The Guardian SICAV, is authorized in Luxembourg and offers a range of Sub-Fund investment opportunities. For further information, visit https://www.theguardianmfo.co.nz/
About Edgefolio
Edgefolio is an industry-leading technology business that serves the Asset Management industry across institutional investors, prime brokerage, fund managers and family offices.  Leading firms work with Edgefolio to address their challenges centered on cap intro transformation, fund marketing, and fund discovery, who benefit from the founders' experience and the advisory board's deep expertise. Customers are based in North America, Europe, and Asia-Pacific, where an office was recently launched in Hong Kong.  
Edgefolio is proud to lead the digital wave that is transforming the way the industry works, towards greater efficiency, transparency, and an overall higher standard of excellence.
For further information please visit Edgefolio's website or reach us directly at ab@edgefolio.com (APac) or tk@edgefolio.com ( EMEA – America)
You can also follow us on LinkedIn or by joining our newsletter.