Innovation and technological progress has changed the distribution of goods and services fundamentally.
Data, analytics and digital applications has increased efficiencies by removing intermediaries and reducing costs. However unlike previous technology advances, these changes have also permitted more personalised interaction and emphasised customer experiences over outcomes alone – effectively transforming transactions into relationships.
A recent Deloitte paper – 'How Technology Will Redefine Relationships with Asset Management Clients' describes how this new commercial dynamic applies to the asset management industry, with a particular focus on how distribution technologies are creating a competitive advantage for asset managers.
Most asset management firms have failed to keep up with the changing social and operating environment, making only incremental changes to address new investor needs. But deploying the necessary technology only works in tandem with initiatives aimed to transform the entire distribution organisation, including a new distribution talent model, processes that support more rapid innovation and deployment, and a change management program that builds confidence and attracts clients.
Distribution inefficiencies
No single view of a client exists, in many cases, because of fragmented client data—collected at varying levels of detail, under differing hygiene conditions, and housed in several places across an enterprise.

Inability to turn data into insights, as asset managers lack sufficient definition around desired analytics, the necessary data scientists with relevant skill sets, and quality or complete data sets.

Disconnected tools across sales, service and marketing, as different, siloed groups within organisations add applications without considering how to coordinate such tools together across the length of the client journey.

Poor customer experience, a general complaint that can crystallise in many forms: inefficient onboarding with disjointed hand-offs among multiple participants, a lack of customised approach, outdated client reporting, or a lack of service quality. Execution challenges compound these problems.
Asset managers still need functions around client and product, an organisational model that brings together people and processes, and an engagement model that serves as a base framework for communicating with prospects and clients. But as buyers demand more personalised service and more consistent communication with asset managers—a sum of interactions that often gets described as client experience—legacy functions are insufficient. Distribution technology links existing sales and service capabilities with client needs, using automation and processing capabilities that allow firms to deliver client experience at scale across retail and institutional clients.
Systematic sources of distribution inefficiency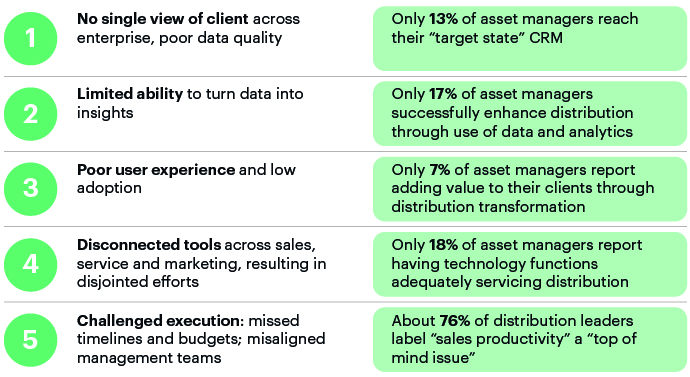 Managers investing in distribution technologies outperform competitors
Most leaders of distribution organisations are aware of the growing expectations gap, but so far many have addressed it by hiring more salespeople. Such strategies often fail to pay off. The industry's estimated sales and marketing-related headcount, as measured by full-time equivalents, ballooned 50% between 2012 and 2017.
During the three years ending 2017, those asset managers who ranked in the top third of peers for spending on distribution technology grew twice as fast as the industry overall in terms of net new flow, and eclipsed rivals in the bottom third, most of whom shrank.
Distribution technology can mean many things, but effectively deployed, it usually consists of three critical layers:
Client data, best held in an integrated data repository that unifies client, prospect, and competitive information from proprietary and third-party sources.

A client analytics engine: algorithms that process large sets of data in order to generate insights regarding client and prospect behaviour. Outputs from the analytics engine allow distribution professionals to segment, analyse and mine client data, finding new prospects and expanding existing relationships.

Finally, client experience applications that allow distribution professionals to use analytics to improve customer experience across multiple functions. Examples include personalising web and email interactions; coordinating the action of marketing, sales, and service teams; streamlining or automating due diligence questionnaires, requests for proposal, and onboarding; delivering insight through reports; and collecting client interactions and feedback.
Worldwide, asset managers spent an estimated $2.2 billion on distribution-related technology in 2017, representing a median allocation of 6.5% of distribution costs. Above-average investments in distribution technology tend to pay off for asset management firms:
Organic growth rates exceed 2% a year, while net flows plummet among weaker spenders

Gross sales per salesperson rise as much as 28%

Sales via reverse inquiry rise 36%
Most distribution leaders realise they need to invest further in technology to support a wider number of more customised and complicated relationships with buyers and intermediaries. Nearly two-thirds of distribution leaders labelled technology or new talent—usually referring to professionals more comfortable with using technology in distribution—as a number-one management priority for the next three to five years.
Most significant changes identified by distribution leaders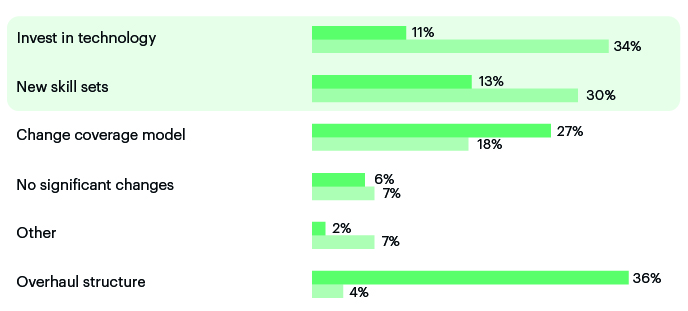 The new digital engagement model
The industry's traditional engagement model has been described as transactional and linear in nature, characterised by interactions built on standardised engagement models and packaged products, without much customisation, achieving scale through headcount increased in sales functions and client services, and post-transaction client communications tending to be reactive.
With the service enhancement of distribution technologies, a continuous interaction loop can be seen as a more desirable experience – aided by automation and anticipating communication needs.
The evolving asset management client experience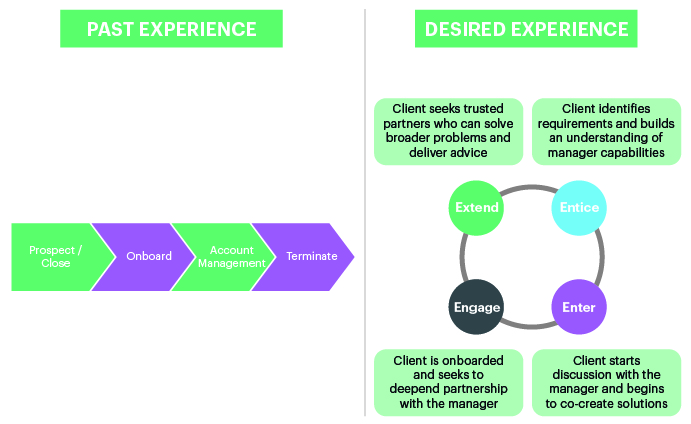 Entice, where asset managers foster interest among clients by engaging them with tailored content, messaging, advertisements, events and similar outreach. Prospective clients receive, through multiple media, personalised content—often in the form of investment-oriented thought leadership—that reflects their top-of-mind portfolio objectives and concerns.

Enter, a phase where buyers expect detailed discussions about their specific needs, and expect asset managers to collaborate on potential, more customised, solutions. Clients seek high levels of engagement from the asset manager's specialists, who can help articulate the best way to meet longer-term portfolio objectives using the recommended investment strategy.

Engage, a phase that begins with onboarding, where clients seek a streamlined and increasingly automated process. Buyers expect ongoing service to remain personalised, usually through two key functions: customised reporting that answers client-specific questions, ideally through self-service portals; and enterprise value-added tools, such as risk management and portfolio optimisation applications.

Finally, extend, where technically proficient distribution professionals bring content and specialists to review the client's needs and suggest specific investment capabilities or services (e.g., asset allocation, hedging overlays, liability management, and income strategies) that could further help clients meet their declared objectives. Absent from the depiction is the fifth "E", exit, which focuses on gathering information about client departures.
Conclusion
Although "transformation" has become an overused word, it truly describes what needs to take place among distribution organisations across the asset management industry. To succeed in a more competitive future operating environment, asset managers must understand and serve their clients continuing to meet rising expectations for levels of personalised service. Human capital will no longer be able to meet these demands without leveraging technology and a process to continuously innovate that technology.
---
Technology is a key enabler for asset managers to achieve scale, which is why we developed FundPortal – a bespoke CRM, fund analysis and marketing platform for hedge fund managers. You can head over here to read more about FundPortal, the document portal solution from Edgefolio. If you would like to find out more or request a tour of the tool, feel free to contact us.
Sign up to our newsletter for further updates from the Edgefolio blog.